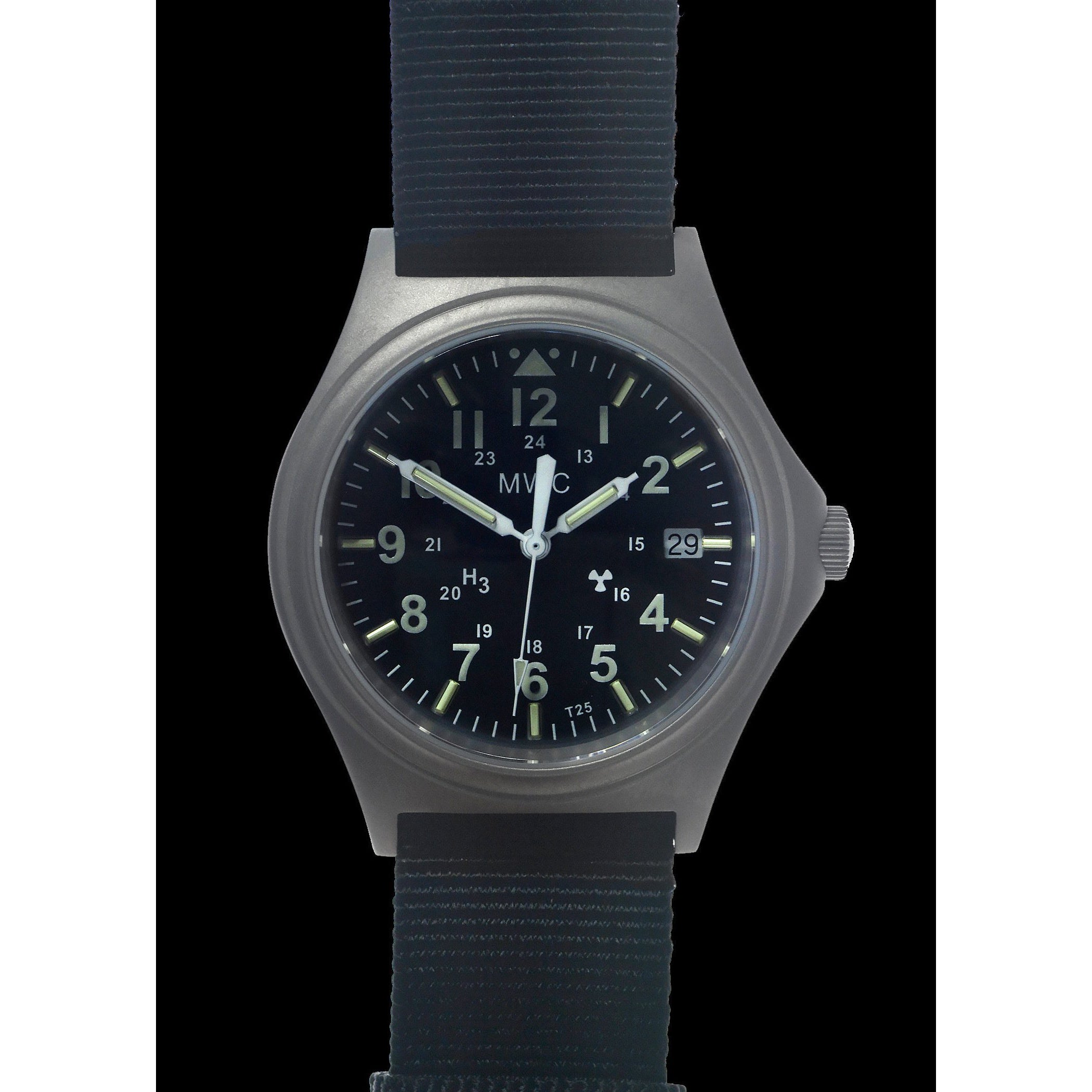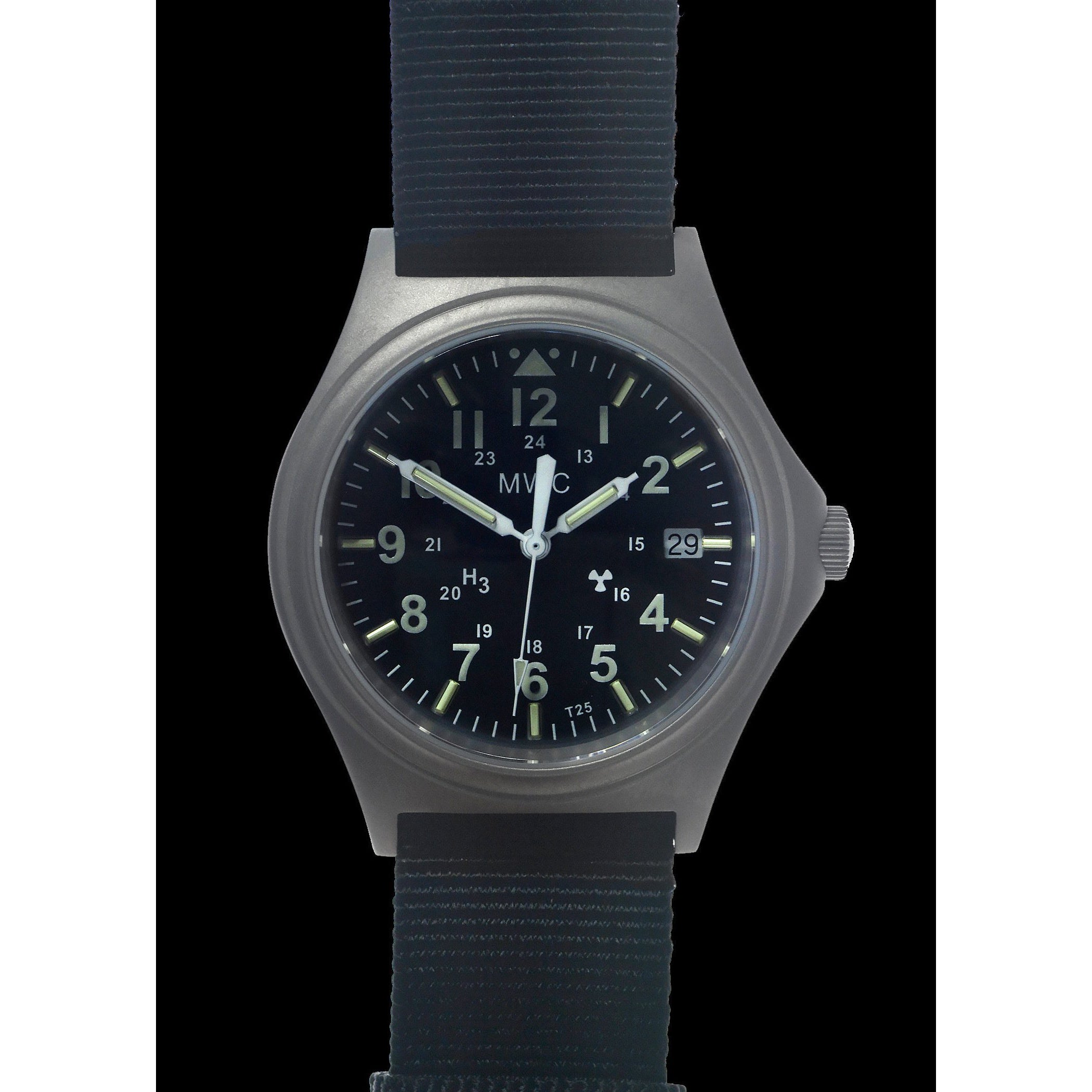 MWC
MWC Titanium General Service Watch with 300m Water Resistance, 10 Year Battery Life, GTLS, Sapphire Crystal and 12/24 Dial Format
This is the latest MWC self luminous G10 model from our Combat Elite range, the watch has a titanium case with 300m (1000ft) Water Resistance, screw down crown, screw caseback, scratch and shatter resistant sapphire crystal and uses Tritium GTLS light sources on the hands and markers plus the digits and triangle are also printed with Luminova for maximum nighttime performance. 
The MWC 300m titanium G10 with a Swiss Ronda 715li movement is one of our highest specification general service watches, it's by far the highest specification watch of its type manufactured anywhere worldwide. Essentially this model combines the best of both new and traditional watchmaking technology. It retains all the popular features from the conventional 300m steel models but the titanium case, ultra low maintenance movement, cutting edge self luminous GTLS tritium vials which provide unbeatable night visibility set this apart from it's competitors, now add in the shatter and the scratch resistant sapphire crystal and it's clear this is the ideal timepiece for all military, law enforcement and security applications.
The actual specification of this watch was dictated by American Military Specification Number: US MIL-W-46374F and this model is the 12/24 hour North American market version. The self luminous system makes the watch very easy to read at night and it has a very distinctive high visibility dial. The, hour markers and the hour and minute hands each have a brightly glowing vial of Tritium gas. Whilst the vials contain radioactive gas even when they are all taken together they contain less than the personal limit of 25 millicuries. (see U.S Nuclear Regulatory Commission regulations 10 CFR 30.15).Military watches of this type are the easiest in the world to read in low light or total darkness thanks to a self-activated light source which is 100 times brighter than traditional light sources such as paint. The light-emitting tubes require no battery power or any other form of charging, and never need servicing or maintenance. The life expectancy of the light sources is at least 10 years after which they can start to fade. To compare Tritium GTLS tubes and Super-LumiNova click here
We designed these watches specifically for a government contract, when it was pointed out they would not be used continuously and needed to be able to be held in storage and then issued when required without the stores worrying that the batteries might be dead we immediately recommended the Ronda 715li because the 10 year battery life of this movement completely avoids this issue.
The standard MWC G10 is one of the most tried and tested military watches and in its earlier variants has been in service for over 30 years, this model shares a similar design to the steel models but the titanium case puts it into a very separate class of watches. The G10 Combat Elite range are supplied with a US pattern nylon webbing strap. The reverse of the case carries various contract markings.
Specification:
Case Diameter: 40mm Excluding the crown
Case Diameter: 42mm Including the crown
Lug to Lug: 46mm
Thickness: 13mm
Weight: 52g
Dial Colour: Black
Case Material: Titanium
Caseback: Screw down
Crown: Screw Down 
Water Resistance: 300m / 1000ft
Glass: Sapphire crystal with non reflective coating
Movement: Swiss Ronda 715li 
Battery Life: 10 Years
Strap: Black 20mm

 

US pattern nylon webbing strap